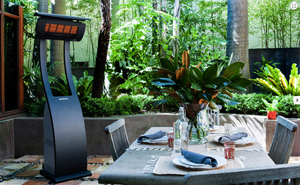 Propane Only
Powerful yet easy to relocate. The award-winning Tungsten Smart-Heat™ Portable heater offers efficient heating in a stylish, modular and maneuverable design with a neutral black finish.
Wide Heat
Widespread heat output, up to 4000mm wide and 5000mm deep, to provide coverage of up to 20m2.
PROPANE ONLY
Tailored Control
Ensure just the right level of comfortable heat with Bromic's unique and patented adjustable heat controls.
 Ceramic Efficiency
Delivery of optimal heat with minimal heat loss is assured via high-intensity ceramic burners.
 Wind Resistance
Contoured design fir superior wind resistance.
 Directional Heat
Warmth where you want it with an innovative adjustable tilting head.
 Modular Design
Easy assembly, dismantling and storage thanks to a functional and pragmatic design.
 Maneuverability
Easy mobility even in tighter spaces with an anti-tilt structural design and built-in wheels.