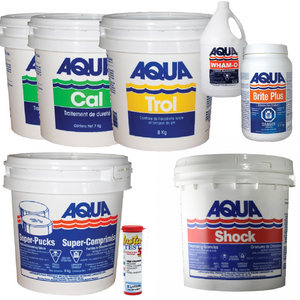 Everything you need to balance and maintain your pool!
This package saves you $$$
Includes:
Aqua Super Pucks 6kg
Aqua Granular 7kg (Shock is shown)
Aqua Cal 7kg X 2
Aqua Trol 8kg
Aqua Brite Plus 2.5kg
Aqua Wham-O 3.6L
5-way Test Strips 
We recommend alternating Aqua Brite Plus with Aqua Wham-O weekly on top of keeping your chlorine, pH and calcium balanced. This is the best way to keep clean safe water all summer long.